BENEFITING THE
Dr. Michael A. Evans, Sr. Scholarship Foundation
Aristide Mansfield
570 N Walnut Creek Drive Mansfield, TX 76063
Aristide Mansfield—Mansfield, TX
Friday, December 13, 2019
Seven o'clock in the evening
doors open at 6:30 a.m.
Benefiting the Dr. Michael A. Evans, Sr. Scholarship Foundation
The Dr. Michael A. Evans, Sr. Scholarship is awarded to those young people who demonstrate the willingness to service in order to support their education. The funds continue to help college hopefuls continue their missions of enhancing the lives of people on the local, state, national and global levels.
This event is organized for the purpose of raising funds for deserving high school graduates who desire to attend accredited institutions of higher learning. We share in the hope every child realize that they are capable of soaring beyond their present bounds to unforeseen heights of academic, technical and vocational levels.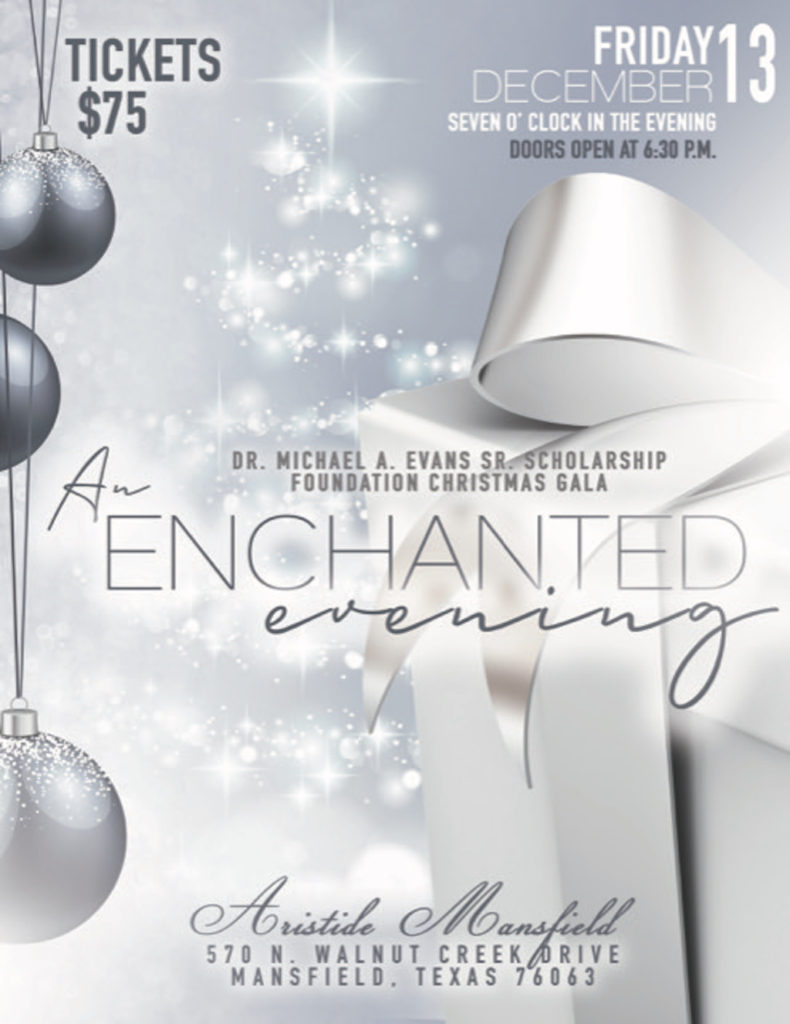 Date/Time
Friday, Dec. 13, 2019
7:00pm – 11:00pm
Location
Aristide Mansfield
570 N Walnut Creek Drive 
Mansfield, TX 76063
Cost
Ticket Price: $75
More Info
  817 829-5252
  817 863-8003